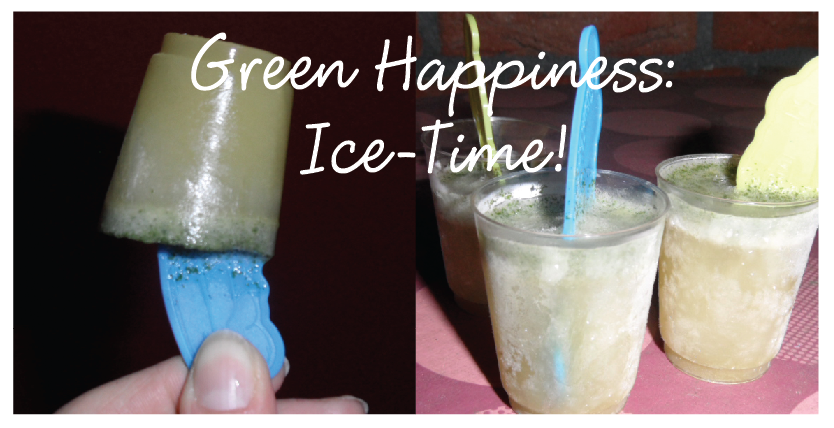 Pic by Franzi. Sorry for the bad pics – it was too dark…
I made it 🙂. I mastered the Monthly Challenge of eating greener and created (okay, I admit it: with a little delay) four totally green recipes. This week was even more challenging because I tried to make something green that induces happiness. That's why I asked a few friends for their ideas when I was enjoying the spring sun in the Schlossgarten with them on Monday. The one response that came quite spontaneous was – oh wonder – ice cream. There was no way of making ice CREAM with only green ingredients, but together we thought about the other possibilities and invented this cold, green happiness treat … on a stick. The popsicles are made of fresh peppermint leaves, pear juice and lime. When I prepared it, I nearly couldn't resist to drink the mixture before freezing it. – I believe this would make a perfect booze-free summer cocktail, too!
Recipe:
Ingredients: Makes 4-5.
Juice of one lime, app. 200ml pear juice, a handful fresh peppermint leaves.
Preparation:
Blend all the ingredients with a hand blender and fill into small plastic shot glasses. Put in a plastic spoon (or if you have such sophisticated things, a popsicle stick ;). Freeze for app. 3 hrs (or longer).
 Enjoy the happiness!
Did you see my other three green recipes? Green Power Smoothie, Green Energy Soup and Simply Green: Steamed Zucchini Sticks!

Like always: All credits appear after clicking the links. If you are interested in putting ads on My so-called Luck feel free to email me for details!