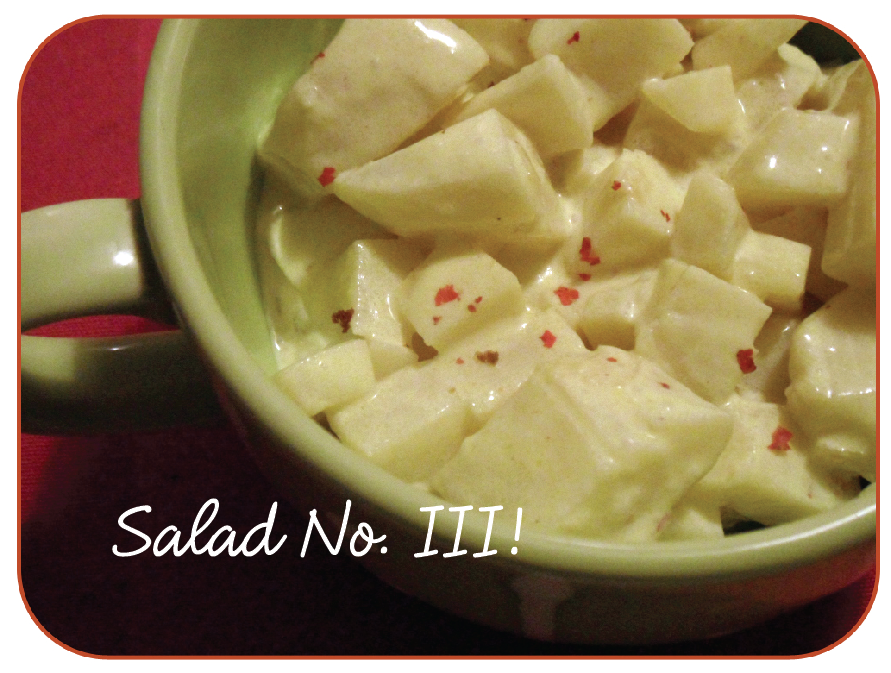 Pic by Franzi.
It's week three of my monthly challenge of trying at least one new salad recipe each week. The decision for salad number three was finally an easy one – it's the recommendation of a friend of mine. She heard about my challenge and immediately told me about this potato salad made with curry powder, orange juice and heavy sour cream (or "Schmand" like we say here in Germany). This sounded like a good start into springtime. So, I prepared it and – no surprise – liked it! For sure, this was not the last time this salad was made in my kitchen!
Update (March 14, 2013): I totally forgot that my friend told me that the salad also includes preserved pumpkin – I only remembered it when I found one glass in my fridge this week. This is what happens if you try to memorize a recipe ;). The salad was delicious anyway, but the addition of the pumpkin sounds like a good extra and absolutely worth a try!
Recipe: Serves 2-3.
Ingredients:
App. 300 g potatoes (boiled in the jacket, peeled and cubed), one big minced onion, 4 TblSps olive oil, 1 TblSp curry powder, app. 200 ml orange juice, 250 g heavy sour cream ("Schmand"), Salt, Pepper, a dash of sugar.
Preparation:
Sauté onions in olive oil until they look translucent. Add curry powder, roast slightly. Then add the orange juice and gently stir in the heavy sour cream. Add to the cubed and peeled potatoes. Mix well. Season with pepper, salt and sugar.
Enjoy!
Did you see already Salad No. I (The nourishing One) and Salad No. II (The Sunny One)?
Like always: All credits appear after clicking the links. If you are interested in putting ads on My so-called Luck feel free to email me for details!