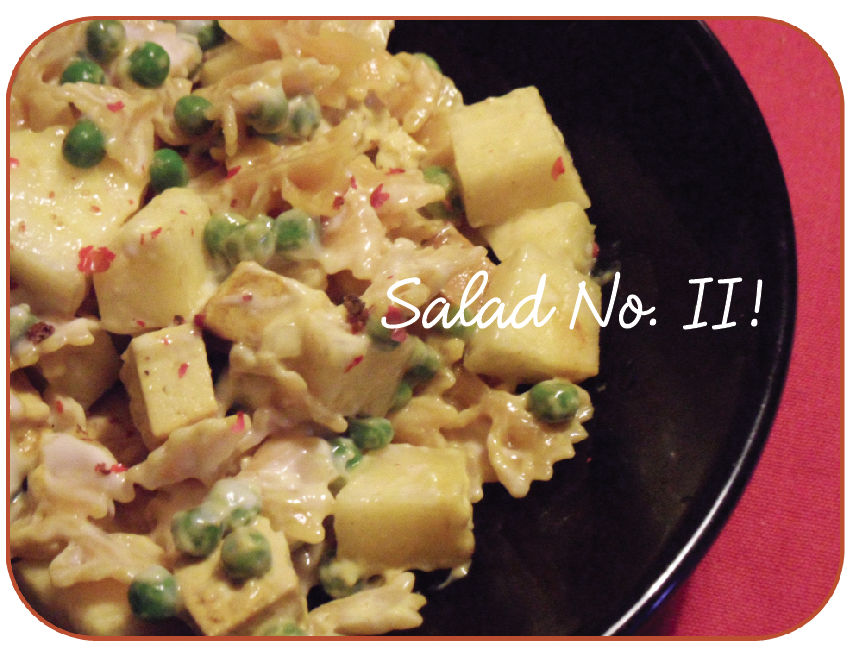 Pic by Franzi.
Wow, these were again seven fast days…. and I thought that this month' challenge of preparing one new salad recipe per week would be easy. Let me admit something: The here depicted salad was made TONIGHT. Right, I ate a full plate of a heavy salad consisting of pasta, tofu and salad cream at a very late hour. I am not sure if this challenge is really a benefit for my diet. At least it was delicious – and yellow. The sunny color is a real treat for my eyes after the grayest winter since more than 40 years. So, now I am full and happy. – Sleep is overrated anyway.
Recipe:
Ingredients: Serves 4.
250 g pasta, 1 package smoked tofu (cubed), one handful frozen peas, 1 chopped onion, 2 TblSps curry powder, 1 TblSp powdered coriander seeds, salt, red pepper, 1 small pineapple (peeled and cubed), 200 g salad cream, 3 TblSps lime juice
Preparation:
Cook the pasta in salted water until it is al dente. During the last 3 minutes, add the frozen peas. Drain peas and pasta, put them into a big bowl and let them cool down a bit. Roast the smoked tofu in a pan in 1 TblSp olive oil, add the curry powder and the coriander. Roast for another 2 minutes. Put the spicy oil with the tofu into the bowl. Add the onions, lime juice, pineapple cubes and the salad cream. Season with salt and pepper.
Enjoy!
Like always: All credits appear after clicking the links. If you are interested in putting ads on My so-called Luck feel free to email me for details!