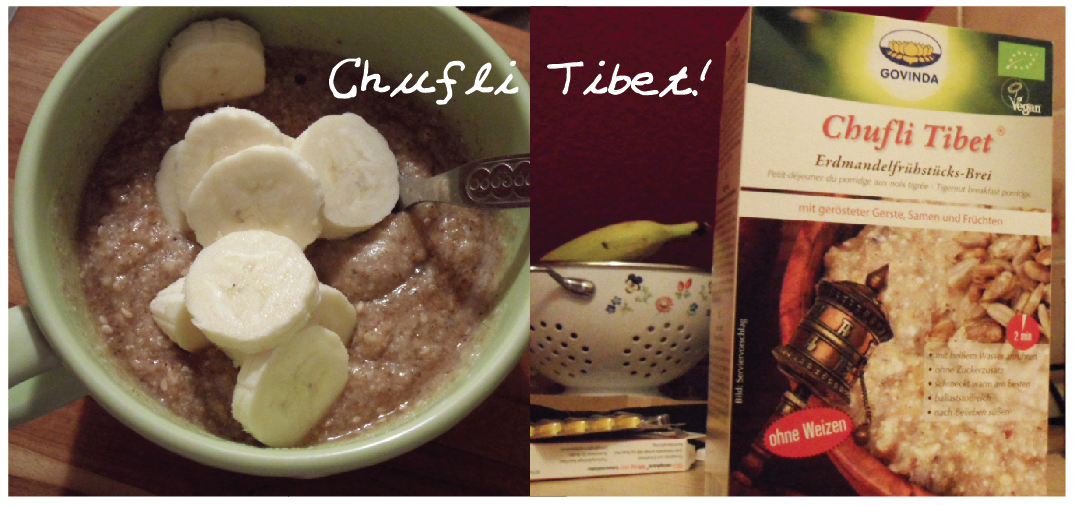 Pic by Franzi.
Wow, it's already the last week of my monthly challenge of eating something new! Time is running … and now that I looked out for new ingredients I found a lot more than I was able to try during the last 4 weeks. This last week alone I ate: Goat milk chocolate, smoked mozzarella, …and Chufli Tibet. Chufli Tibet?? What's that?
My pal Joni told me that she saw it in an organic food store. It's  a breakfast porridge made with tigernuts, barley, buckwheat, sesame, plums, dates, vanilla, teff and coconut flour. To prepare it, one has to mix 100 ml hot water with 4 TblSps Chufli and let it swell for 5 minutes. It's best served with banana pieces. …To be honest, it was not the best breakfast I ever ate. I guess that I am just not a porridge type. And the porridge contains some crunchy pieces which I found quite strange. But I will give it to someone who likes porridge and will certainly appreciate it more than me :).
That was it with my challenge of eating something new … but I will continue to keep my eyes open for foreign ingredients!
Those were the new dishes/ingredients I ate in week I, II and III: Smoked salt in a veggie burger, grains of paradise in chilli & halva in a Turkish banana dessert!
Like always: All credits appear after clicking the links. If you are interested in putting ads on My so-called Luck feel free to email me for details.