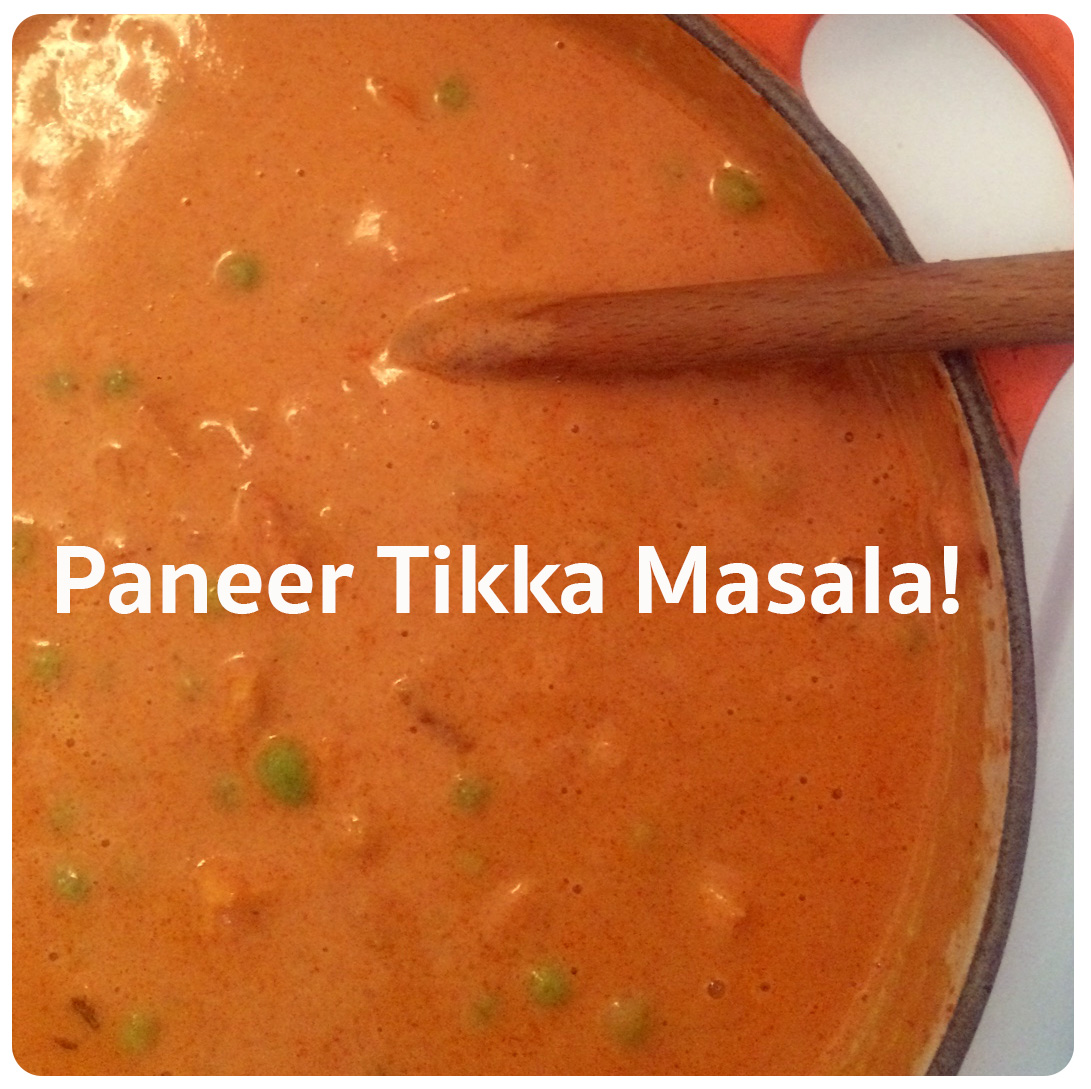 Pic by Franzi.
This dish tastes like made in an Indian restaurant (at least in my world). I made it already several times – especially for guests. It's easy to prepare (but takes some time) and always gets lots of praise :). You can make it either with paneer (an Indian fresh cheese that's available in good-sorted Asian stores or you prepare your own home-made cheese), or alternatively use tofu, which tastes nearly as good as paneer in this Tikka Masala.

Recipe:

Ingredients: Serves 4.

2 TblSps coconut oil for frying, 250 g paneer or tofu (cut into cubes), 3 TblSps olive oil, 1-2 garlic cloves (smashed), 1 diced onion, app. 60 ml tomato paste, 2 TSps ground cardamom, 1/2 TSp pepper flakes, 2 TSps minced ginger, 2 TSps ground turmeric, 1 TSp garam masala, 1 TSp ground coriander, 1 TSp ground cumin, 800 g whole peeled tomatoes (tinned), 500 ml heavy cream, 450 g frozen peas, salt.
Preparation:
Heat the coconut oil over medium-high heat in a big cast-iron pot. Fry the paneer (or the tofu) until it is golden-brown (2-3 minutes on each side). Remove to a paper-towel-lined plate to drain. Discard the oil.
Heat the olive oil in the same pot. Add the smashed garlic, the minced onion, the tomato paste, the cardamom and pepper flakes. Roast, stirring often, until the tomato paste has darkened and the onion has softened (about 5 minutes). Add the rest of the spices (ginger, turmeric, garam masala, coriander and cumin) to the pot and roast, stirring constantly, until the bottom of the pot begins to brown (about 4 minutes).
Add the tomatoes with their juices, crushing the tomatoes with your hands while you add them. Bring to a boil and then reduce the heat to a simmer, stirring frequently and scraping up any brown bits. Cook until sauce thickens (about 8 minutes).
Add in the heavy cream, the paneer and the peas. Season to taste with salt. Simmer, stirring occasionally, until slightly thickened (15-20 minutes). Serve with rice.
Enjoy!
Like always: All credits appear after clicking the links. If you are interested in putting ads on My so-called Luck feel free to email me for details.