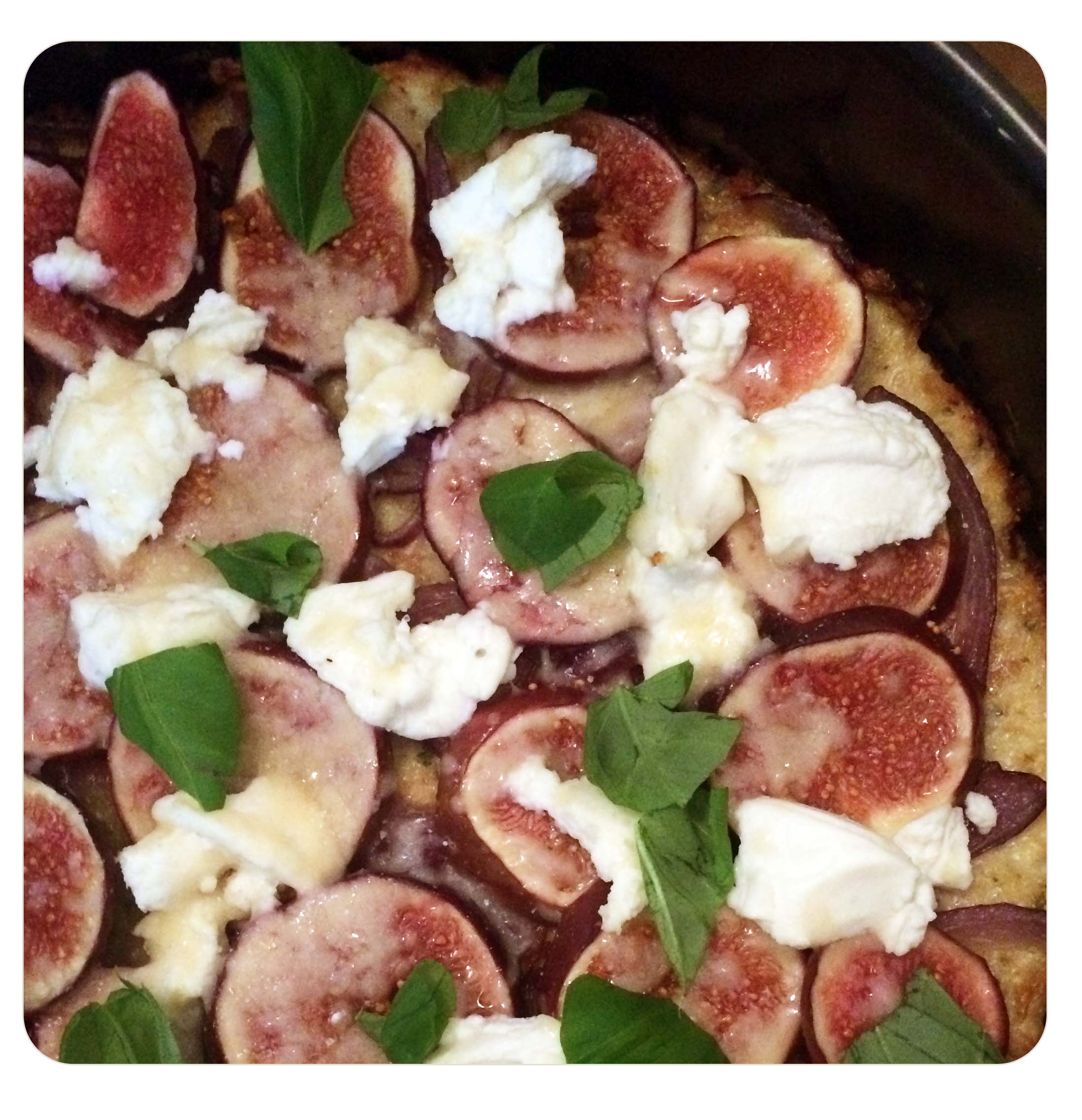 Pic by Franzi.
Since eating gluten-free, I think a lot about pizza (and pasta). I just miss my pizza treats from time to time. But then I read that one can actually make a pizza crust with cauliflower instead of flour. Yes, cauliflower. Last weekend I tried it – topped with figs and ricotta cheese. What can I say?… The crust preparation took some time, but it was absolutely delicious!

Recipe: Serves 2-3.

Ingredients:
1 cauliflower (chopped into florets), 2 eggs, 1 cup grated parmesan cheese, 2 TSps Herbs de Provence, 1/2 TSp salt, 1 onion (cut into rings, caramelized), 4 figs (cut into slices), 1/2 cup ricotta cheese, basil leaves.
Preparation:
Pizza Crust:
Add the chopped cauliflower to a food processor, grind until small grains form. Spread the cauliflower over a parchment-lined baking sheet, and bake for 15 minutes at 200°C. Remove and let cool. Place cauliflower in the center of a tea towel and wrap it into a ball. Squeeze out as much of the water as possible. Place the drained cauliflower into a mixing bowl, add eggs, salt, herbs and parmesan cheese – stir together. Line a small cake tin with parchment paper. Spread the crust mixture into the tin. Bake for 15 to 20 minutes at 225°C. Allow the crust to cool slightly before adding toppings.
Topping:
Distribute the caramelized onion, the ricotta cheese and the sliced figs over the crust. Bake the pizza for 15 minutes at 225°C. Garnish with fresh basil.
Enjoy!
Like always: All credits appear after clicking the links. If you are interested in putting ads on My so-called Luck feel free to email me for details.