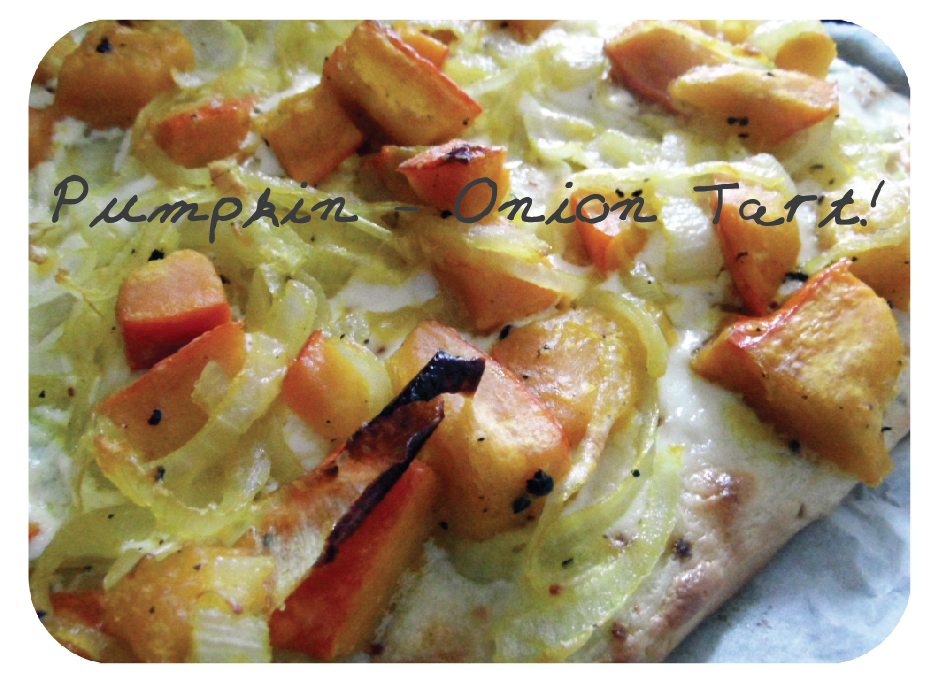 Pic by Franzi.
Currently it must be very funny to observe my shopping habits at the farmers market: Like always, I go there without a plan. I simply want be inspired by the things that are offered. Then I see the mountains of zucchini and pumpkins there. I make my round, go to every single stall and look. Then I go to the one stall I am always buying my fruits and vegetables … and by a zucchini and a pumpkin. The same like last week, and the week before. At home I start to think about what I wanna actually do with a zucchini and a pumpkin. – Admittedly I ate more than once pasta with zucchini sauce lately ;). Last week I decided for a simple Fall fav: A Pumpkin-Onion Tart (and pasta with zucchini sauce… again).
Recipe:
Ingredients: Pizza dough, 200 ml Crème fraîche, salt, pepper, 1 big onion (app. 300 g, cut into rings), 1 small pumpkin (Hokkaido, app. 500 g, cubed), olive oil, rosemary.
Preparation: Heat the oil in a big pot. Add the onions and roast them until they are slightly browned. In a second pot, heat oil and roast the pumpkin cubes for app. 5 minutes. Season the crème fraîche with salt, pepper and the rosemary and spread it onto the rolled out pizza dough. Top with roasted onions and pumpkins. Bake for 25 minutes at 200°C.
Enjoy!
Happy Birthday Mom!
Like always: All credits appear after clicking the links. If you are interested in putting ads on My so-called Luck feel free to email me for details!