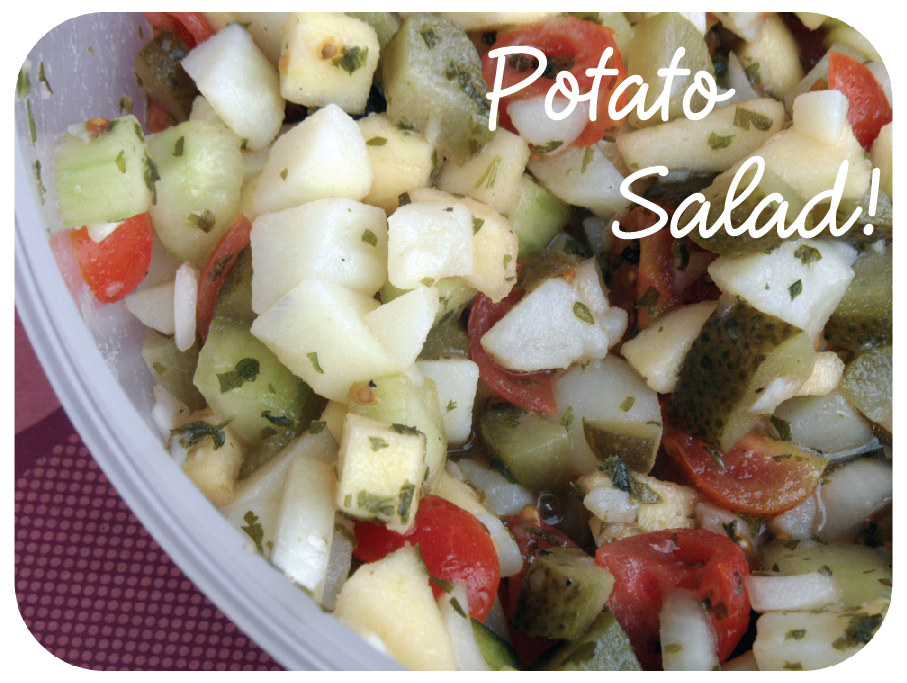 Pic by Franzi.
The BBQ season started – okay hypothetically (who really wants to sit outside in the rain?!). BBQ season = salad season and there are always some family classics that are served at a good BBQ. In my case this would be my mum's potato salad. It's made without any mayonnaise and therefore fresh & healthy (& tasty). And the best: Every time I make the salad for friends I am asked for the recipe. And here it comes:
Recipe:
Ingredients : Serves 6-8.
1 glass gherkins (diced), 1 apple (peeled, cored and diced), 1 cucumber (diced), 1 onion (thinly sliced) , 500g cooked and peeled potatoes, 4 tomatoes (diced), parsley (minced), salt, pepper, 1 Tsp sugar, 2 Tbsp oil
Preparation :
Cut the potatoes into cubes and combine them with the vegetables and the parsley. Add the gherkin water (w/o the spices) and oil. Season with salt, pepper and sugar.
Enjoy!
P.S. This salad maybe reminds you on my mum's pasta salad….
Like always: All credits appear after clicking the links. If you are interested in putting ads on My so-called Luck feel free to email me for details!