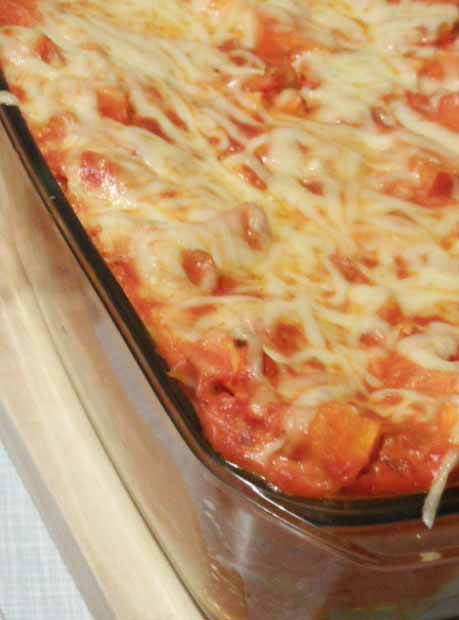 Pic by Franzi.
When I wrote about groups and clubs last Monday, I also told you how much I appreciate them. – And that's one of the many reasons I recently founded a new cooking group. It took a while to organize everything, but we finally met at the start of this week and cooked our first meal together. The main dish was a pumpkin lasagna – and the picture above should be enough to convince you of the success of this evening. We used THIS recipe to prepare the lasagna, but since I have my own and many times  repeated, well proofed, recipe, I will offer you my variation as well. If you ask me, this fall is allowed to go on forever. – With so many pumpkin classics that are still on my to-do list for this season: Pumpkin Bread, Pumpkin Onion Tart, Roasted Pumpkin….
Recipe:
Ingredients: Serves 4.
1,5 kg Hokkaido pumpkin (diced), 2 onions (diced), 5 tomatoes (diced), app. 200 ml whipping cream, basil, pepper, salt, 200 g grated cheese, bechamel sauce (50 g butter, 50 g flour, 750 ml milk), lasagna sheets, 2 packs mozzarella, oil.
Preparation:
Sweat the pumpkin, the onions and the tomatoes in some oil. Add some cream and season with salt, pepper and basil.
Prepare the bechamel sauce: Melt the Butter,  stir in the flour. Add gradually the milk to the roux, until the sauce reaches the aspired consistency. Season with salt and pepper.
In a large casserole, put first some bechamel sauce, then one lasagna sheet, then some pumpkin mixture, then some grated cheese, then one lasagna sheet, then again some bechamel, some pumpkin mixture, some grated cheese… and so on. Finish with a lasagna plate with bechamel sauce and top with mozzarella slices.
 Enjoy!
Like always: All credits appear after clicking the links. If you are interested in putting ads on My so-called Luck feel free to email me for details!