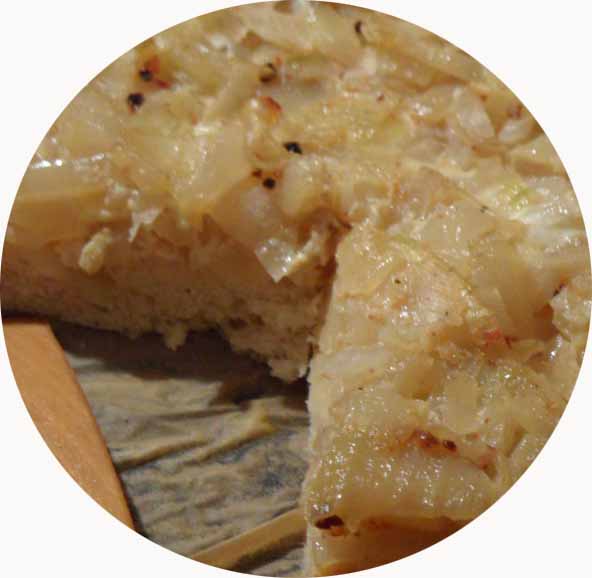 Pic by Franzi.
What's the perfect fall dish? Something with pumpkin? – Very often, indeed. But for me, nothing beats the good old hot (vegetarian) onion tart, together with a cool glass of federweisser and a bunch of nice people. Everyone eating and drinking as much as is possible, having a funny but comfy evening or night together. And believe me, with my recipe the yeast dough is not difficult at all and worth every effort!
Recipe:
Ingredients: Serves 6-8.
Yeast Dough: 500 g wheat flour, 1 TblSp salt, 250 ml milk, 30…50 g fresh yeast, 60…80 g sugar, 60…80 g butter
Topping: 750 g thinly sliced onions, 250 ml sour creme, 4 eggs, salt, paprika, caraway, pepper (and for meat lovers: add 100 g roasted bacon)
Preparation:
Dough:
Crumble the yeast with 1 TblSp sugar and 1 TblSp flour into some lukewarm milk and stir well until smooth. Put the rest of the flour in a big bowl, form a hole in the middle and pour the yeast mixture into it. Let rest for app. 15 minutes. During this time, heat the rest of the milk up until it's lukewarm and melt the butter. Afterwards, mix the yeast mixture with the flour, the sugar, the salt and add – step by step – the melted butter and the milk. Beat the dough with a wooden spoon until it's not sticking to the bowl anymore. Cover the bowl with a kitchen towel and let rest again for at least another 30 minutes. Knead the dough one more time (with your hands) and roll it out on a baking sheet. Let rest again until your topping is ready.
Topping:
Preheat the oven (200°C). Sauté the onions in some oil until they are soft and slightly browned. Season with salt, paprika and caraway. Put the onions on the rolled out dough. Mix the sour creme with the eggs, season with salt, pepper, paprika and caraway and pour it over the onions. Put the tart into the oven and let bake for app. 40 minutes.
 Enjoy!
Like always: All credits appear after clicking the links. If you are interested in putting ads on My so-called Luck feel free to email me for details!