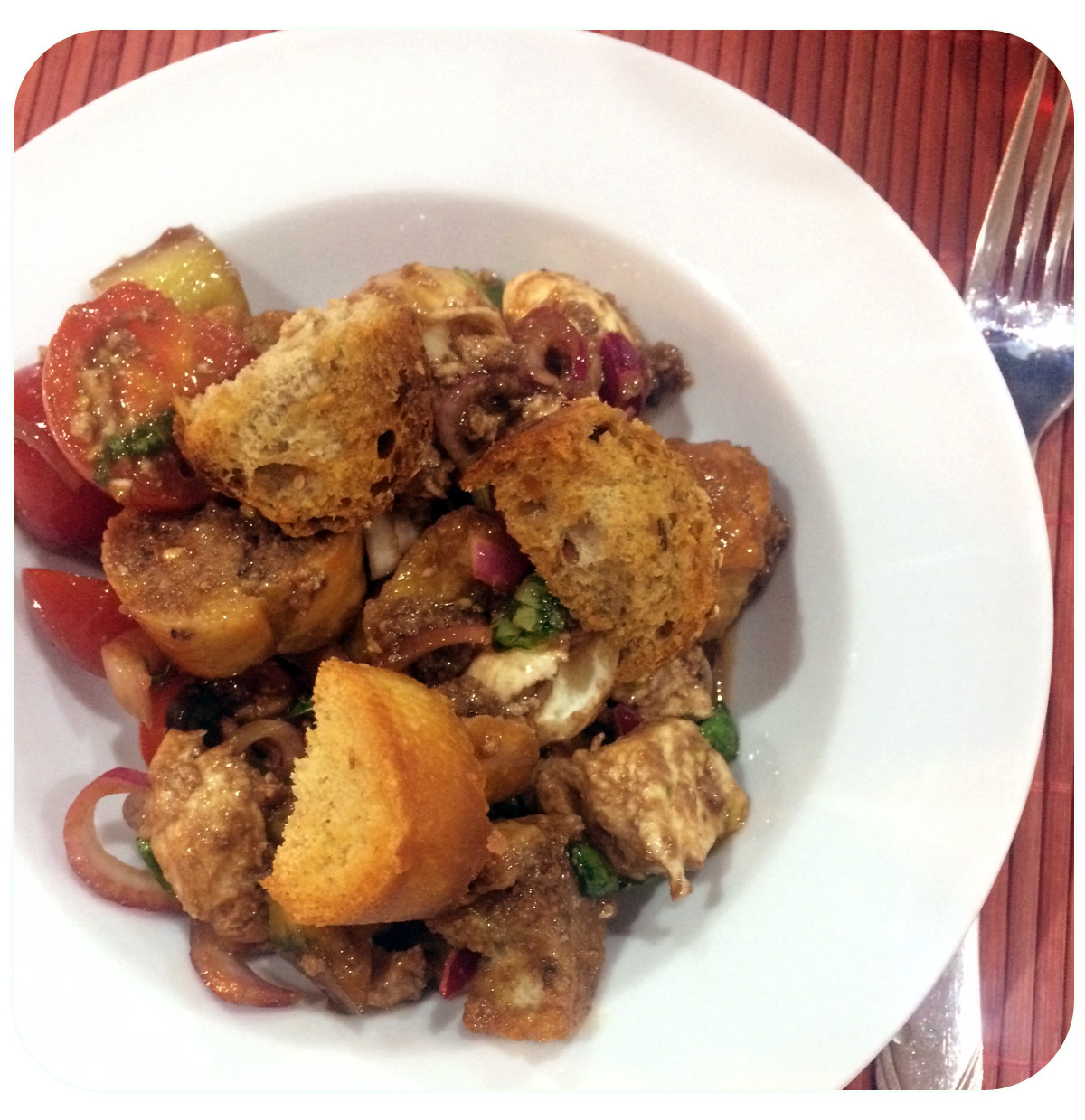 Pic by Franzi.
Here comes one of the many dishes we prepared during the last two weeks on our summer vacations. This one is an Italian classic: Panzanella! It's easy to prepare (but needs some time to marinate) and tastes like a day in Tuscany!

Recipe: Serves 4.

Ingredients:
2 loaves of one day old crusty baguette (cubed), 2 garlic cloves (minced), 6 thyme twigs (mince the leaves), 800 g cherry tomatoes (halved), 1 cucumber (peeled, halved and cubed), 2 red onions (cut into rings), 500 g buffalo mozzarella (cubed), 1 bunch of basil (cut the leaves into small pieces), olive oil, aceto balsamico, salt, pepper.

Preparation:
Spread the bread cubes onto a baking tray, sprinkle with app. 2 TblSps olive oil and bake at 200°C for app. 10-12 minutes. Allow to cool.
Mix garlic, app. 6 TblSps aceto balsamico, salt, thyme and pepper. Put tomatoes, cucumber cubes and onions into a big bowl. Mix app. 10 TblSps olive oil with the marinade and add to the vegetables. Store in the fridge for app. 30 minutes. Add 2/3 of the bread cubes and let marinade at least another hour in the fridge. Serve with mozzarella and the remaining bread cubes. Garnish with the basil leaves.
Enjoy!
Like always: All credits appear after clicking the links. If you are interested in putting ads on My so-called Luck feel free to email me for details.