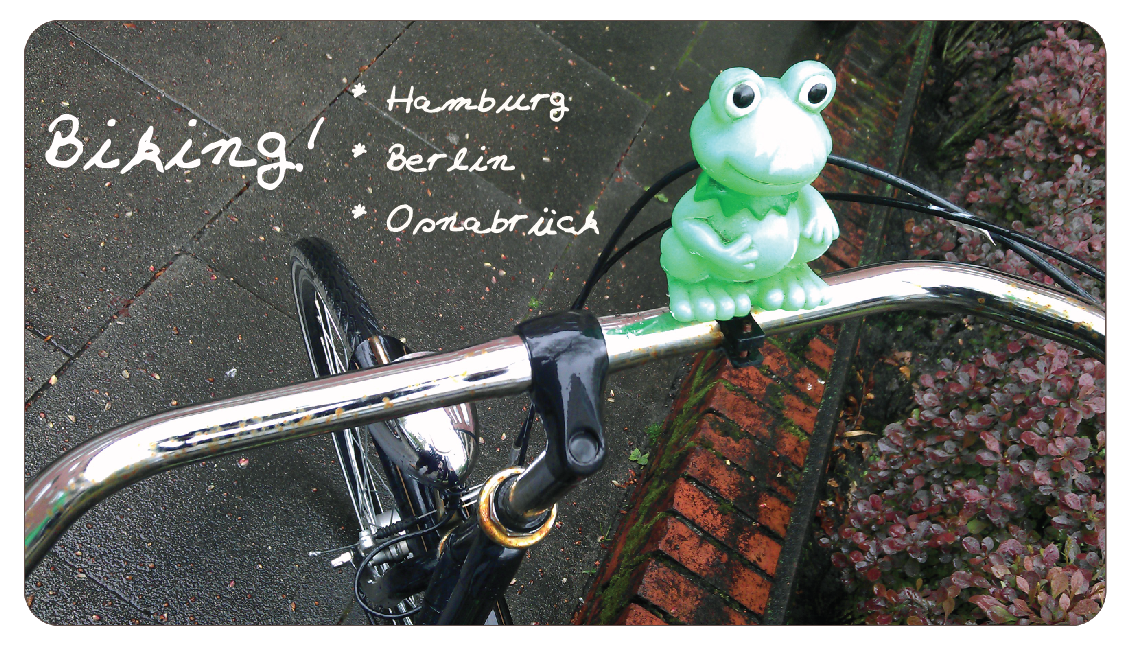 Pic by Franzi.
Since I moved to Hamburg I am thinking every day how different it feels to bike through the city in comparison to the last decade in Osnabrück. In the past, I sometimes rented a bike in Hamburg, but on those occasions I mostly followed my friends, not caring about directions and bike ways at all. Now that I lived in three totally different cities – Hamburg, Berlin & Osnabrück – I thought it would be time to compare them with each other …bike-wise :).
Hamburg
Distances & Surroundings:
Before I moved to Hamburg I always thought it would be comparable in its size to Berlin. After I spent the first week in the city on a bike, I realized that it's actually much smaller. In 90 % of my daily activities I can easily reach my destinations by bike and it won't take more than 30 minutes (max). In regard to the surroundings it is 50-50: Either one chooses big highways with a lot of traffic but considerable good bike ways and easy directions … or the beautiful paths that pass all the canals and the river or the harbour or the Alster. I always vote for the last option… but I am also never reaching my destination at time because I am getting confused and lose my way.
Bike Ways:
Bike ways are always (!) located at the sidewalks. If there is no bike way on the sidewalk you should still cycle there because otherwise the car drivers will blow you away with their horns. Moreover, the bike ways are very often in catastrophic conditions: Too narrow and with lots of cracks. If possible – I try to avoid them: Resulting in me constantly cycling on the pedestrian paths. The city promised to improve its bike ways, but at the moment they are still death traps. Not joking.
Co-Bikers:
The people in Hamburg love to bike. Everyone here uses the StadtRAD system (a public bike rent system) or has a bike on his/her own. Unfortunately many bikers are cycling pretty aggressively – there is never a day without me getting yelled at by a co-biker that I am either too lame or too rude or too fast. Hamburg's bikers don't care about red traffic lights or cycling in the wrong direction or "too narrow to overtake" bike lanes.
Bike Friendliness:
*** (of five stars possible)
Berlin
Distances & Surroundings:
Berlin has fantastic lakes (the Müggelsee!!) and nature. But also lots of big, big highways and enormous distances to pass. …One example: From my mother's home to my pal Suse in Frohnau it's a distance of about 40 km. Google Maps says it would take 2,5 hours to go there by bike. So, it would take ME 5 hours (due to my comfy cycling style).
Bike Ways:
Berlin has either perfect bike ways – wide and new and even – or none. When I still lived there, I had to buy special bike maps to plan my bike trips arround the city. This may be more than a decade ago, but I still know streets lacking bike ways (B1 I am thinking about you!). …And here is one more thing: Berlin has many trams. Be aware of those rails – your wheels will fit perfectly into them and it causes terribly, terribly accidents!
Co-Bikers:
Mostly friendly – Berlin style. Cool and laid-back, but also focused on their destinations (At least in the inner city. There are beautiful nature paths for wonderful bike trips in the outer area – filled with happy bike-riding families).
Bike Friendliness:
*** (of five stars possible)
Osnabrück
Distances & Surroundings:
When I came to Osnabrück 14 long years ago, the very first thing I recognized on the streets were lots of bikes. They were everywhere. Younger people will always take their bike to travel from A to B in the city. It simply has the perfect size. Moreover, it's surrounded by forests and fields and allotment gardens, pretty small towns worth a weekend bike trip and even some old castles.
Bike Ways:
Perfection. Nearly every street (!) has an even, wide bike way. The second thing I realized all those years ago were actually Osnabrück's bike way system. On the first glance it's wild, because the red lanes marking the bike ways sometimes cross big traffic streets in a chaotic way, but I got used to the system fast and then it really made sense. On the down-side but like in many other cities as well, Osnabrück's car drivers sometimes forget that they have to share the streets with the bikes. Unfortunately, this resulted in some tragic accidents in the past. Nevertheless, the city has a strong bike lobby and is working on the problem with campaigns to raise the awareness (like installing Ghost Bikes).
Co-Bikers:
I never had a real problem with my co-bikers in Osnabrück. They all behave relaxed and are conscious about the traffic around them. There may be exceptions, but I am always happily riding my bike instead of being afraid of the shouting of someone who thinks that I am deliberately trying to irritate him or she with my slow cycling style ;).
Bike Friendliness:
***** (of five stars possible)
Have a fresh start into a wonderful (short) biking week!
Like always: All credits appear after clicking the links. If you are interested in putting ads on My so-called Luck feel free to email me for details.