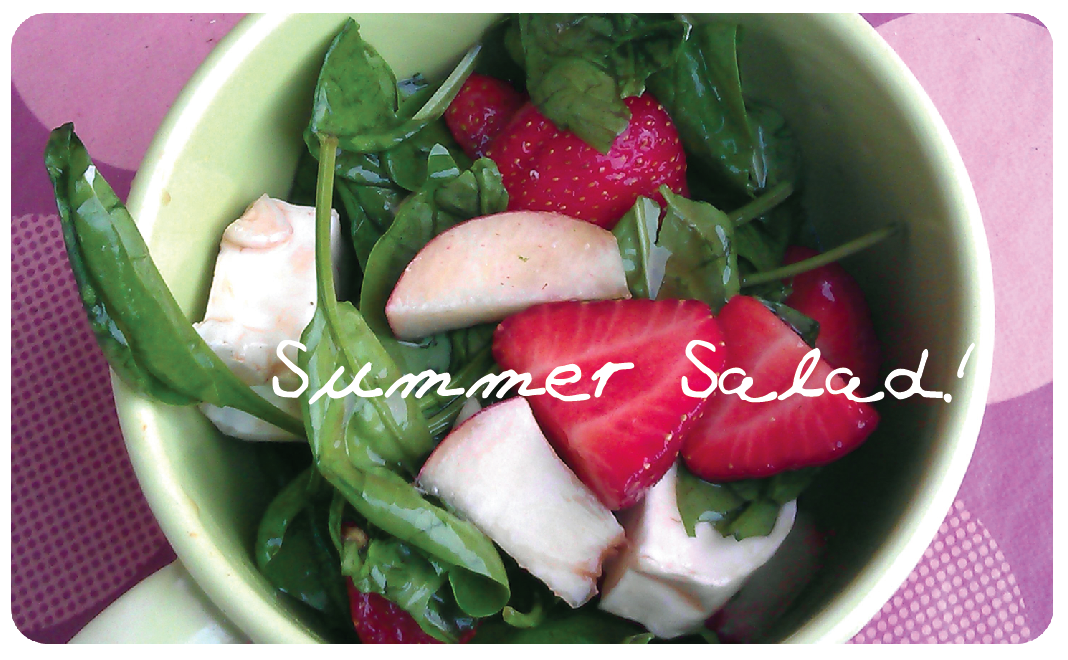 Pic by Franzi.
In summer I eat a lot of salad: Salads are easy made and (mostly) one does not even have to use the stove. Plus, I like to be inventive and to try out new combinations of ingredients. That's how the recipe for this strawberry – peaches – spinach – goat cheese  – balsamico summer salad was born. I prepared a huge bowl of it … and then I ate it completely: The balsamico dressing simply fitted deliciously with the sweet fruits!
Recipe: Serves 3-4 (or only me).
Ingredients: 250 g strawberries (washed and cut into pieces), 1 diced onion, 100 g young spinach leaves, 2 peaches (cut into pieces), 125 g goat cheese (cut into pieces), 1 big mint leave (minced), salt, pepper, aceto balsamico vinaigrette (100 ml aceto mixed with 200 ml olive oil).
Preparation: In a big bowl, mix strawberries, spinach leaves, onions, peaches and goat cheese. Season with pepper, salt and mint. Serve with balsamico dressing.
Enjoy!
Like always: All credits appear after clicking the links. If you are interested in putting ads on My so-called Luck feel free to email me for details.