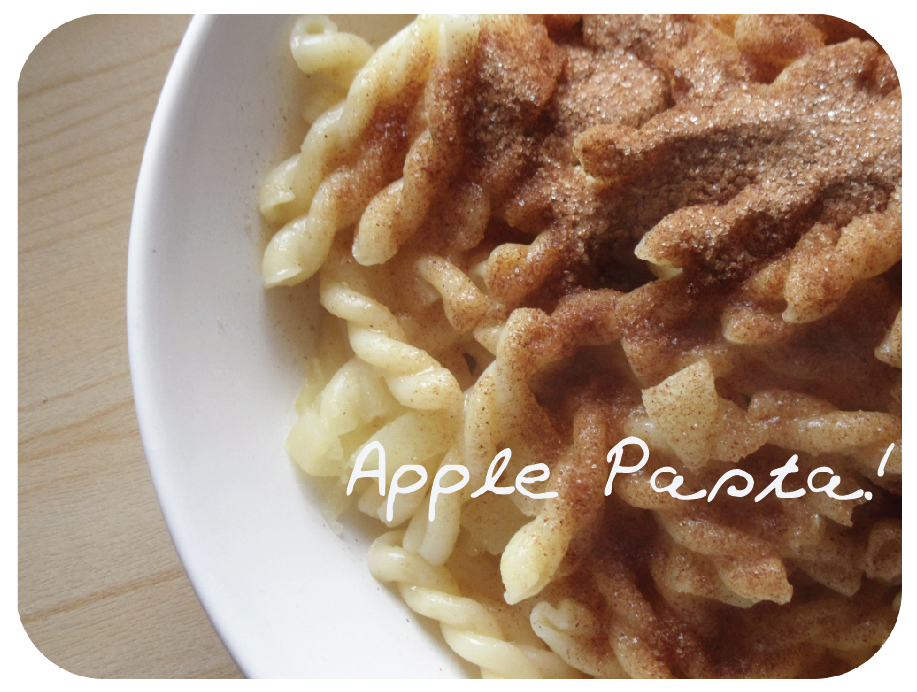 Pic by Franzi.
I still have a lot of apples from our allotment garden. This week I decided to prepare with them some comfort food (just because every girl needs a little comfort now and then 😉 ) – Apple Pasta! This is something for my sweet tooth – sweet soft apples with a lot of cinnamon and sugar in combination with pasta. You may say it's a variation of the classic rice pudding (one of my favorites as a kid). I am pretty sure that the combination of apples and pasta is not something for everyone, but I highly recommend it. It's simply prepared, you only need a few ingredients, it's sweet and last-but-not-least absolutely delicious.
Recipe: Recipe for PRINT!

Ingredients: Serves 2.
App. 3 apples (peeled and cubed), 400 g pasta, 2 TblSps butter, sugar & cinnamon, salt, zest of one lemon.
Preparation:
Cook the pasta in salted water until it is al dente. Meanwhile cook the apples for 10 min in app. 1 liter water with the lemon zest and 1 TblSp sugar. Drain the pasta and the apples and mix them with each other and the two TblSps butter (until it is melted and your pasta looks slightly oily). Then sprinkle with as lot sugar & cinnamon as you like (I personally like a lot of it).
Enjoy!
Like always: All credits appear after clicking the links. If you are interested in putting ads on My so-called Luck feel free to email me for details!