What I think about, when I think about summer…
…the Sea, Open-Air Cinema, BBQs, Ice Cream, the Sun, the Beach, Flowers, Festivals and Holidays!
What YOU think about, when YOU think about summer…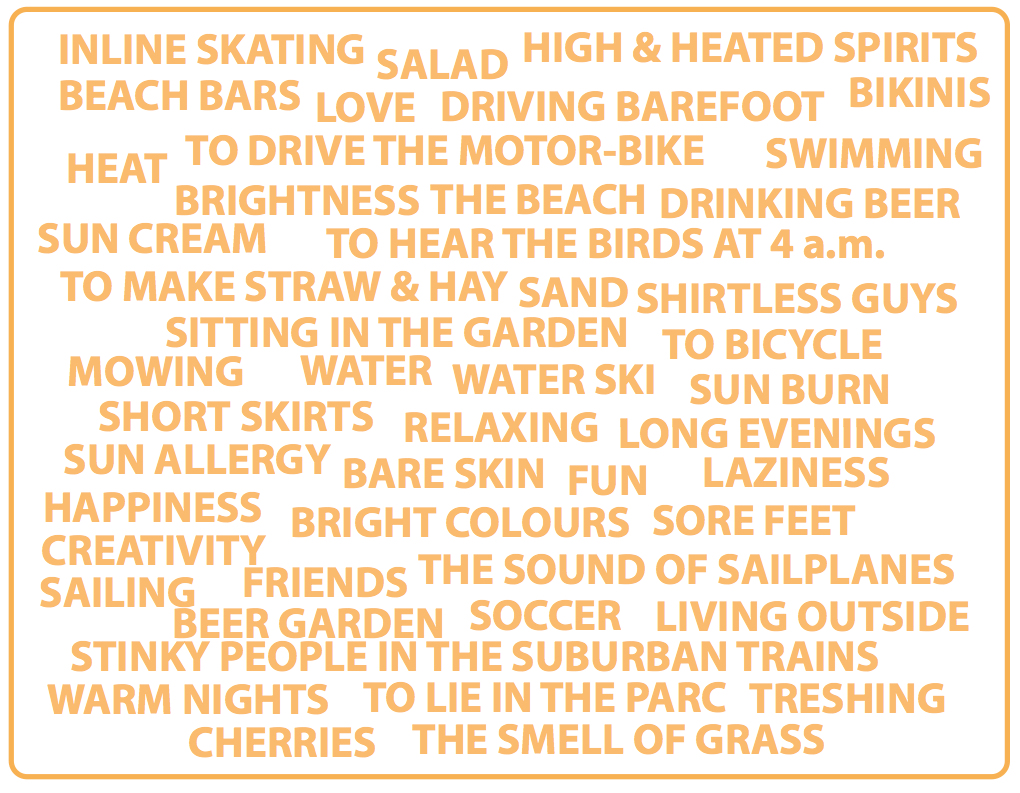 …thanks Mum, Suse, Marie, Liesi, Ralf, Conny, Meike, Inka, Dania, Judith, Isa, Dennis, Vivien & Eva!
Parks:
I will spend most of my free time the next months either in our allotment garden or in Osnabrück's nice two parks – the Schlossgarten or the Bürgerpark (my favorite!).
Open-Air Cinema:
One of the best things you can do during all these looong summer nights in the next time (Beside sitting with a nice glass of red wine on the balcony!) is going to an open-air cinema. I really hope that the Cinema Arthouse in Osnabrück will organize also this year some open-air shows! Otherwise, I'm a big fan of the Naturtheater Friedrichshagen in Berlin (it's located in the woods!). And one recommendation I didn't try out for myself yet, but sounds very interesting is the open-air cinema Pompeji in Berlin – Ostkreuz ("Located in one of the last interesting places in Berlin.").
Smell:
So many of you answered the question what they do relate with the word SUMMER with sun cream. I had to laugh about this statement, because I'm always amused about the instant summer feeling while opening a bottle of sun cream! The other smell I totally link with the hot season is the perfume Jil Sander – Sun. It's the scent I'm wearing the whole summer long. Sometimes during grey winter days I secretly open the bottle and smell on it. – Just to remind myself that there are better times coming 😉
Inspiration:
I really like the idea to prepare ice eggs for kids to play with on hot days! Every egg contains a toy, but first of all the ice has to be cracked. Maybe this would also work as a party game for adults?
Like always: All credits appear after clicking the links.