I am in Vienna – one of THE coffee meccas! So it makes totally sense, that today's post is written by my guest author and coffee lover Stephan!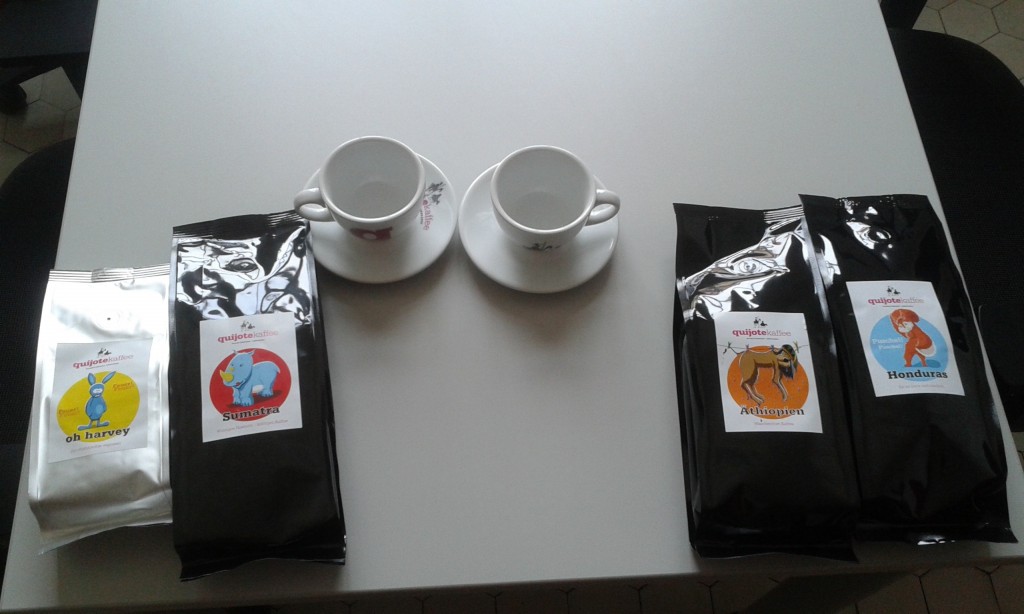 Pic by Stephan.
Hey all! I'm Stephan and I will guest-blog today about something that I hold very dear in my life: Coffee! Most of my days start with a routine of grinding my beans, preparing my Hario drip filter and slowly waking up while smelling this beautiful coffee smell. One of the keys for this experience is having great coffee beans.
Hamburg is quite an amazing city when it comes to coffee: The harbour guarantees that plenty of great beans enter Hamburg; a whole lot of great roasters make sure that the best stuff never leaves. One of my personal favourites is Quijote Kaffee in Rothenburgsort. They follow a policy of direct trade, which guarantees the producers double the price of a "normal" fair trade coffee, while still making sure that coffee is produced in a sustainable way. Most amazingly, they lay open all their contracts with producers and internal calculations, thus setting high standards for transparency.
All this would not be noteworthy if they would not at the same time produce an absolutely amazing product. The different roasts have never disappointed me and I want to shortly introduce some of my favorites today:
1. Oh Harvey
An espresso that made me feel like back in Bella Italia. Creamy, dark, wonderful. For all those who have not fallen in love with "fruity" espresso, this is the perfect bean.
2. Sumatra
A little rhino, but a powerful coffee. This description on the bag of this filter coffee is so fitting that I needed to quote it. Perfect for a French Press and especially amazing as the first coffee of the day.
3. Ethiopia
This coffee is summery and beautiful. Like in most Ethiopian coffees, some fruity notes can be found and I can highly recommend it for Cold Brew (but it still is amazing when served hot).
4. Honduras
Come on, this coffee has a squirrel on the outside. Does it need more convincing? Like a squirrel, this coffee makes each part of the day a bit better. Not too strong, not too fruity, just great.
To sum up, if you feel like you deserve some great coffee, Quijote is one of the places in Hamburg (and on the Internet) where you can get it.
I hope you enjoyed reading about coffee and crave some black gold now. Have an amazing day and grab some coffee now! 🙂
Enjoy!… And thanks Stephan for this delicious coffee guest post!
Like always: All credits appear after clicking the links. If you are interested in putting ads on My so-called Luck feel free to email me for details.