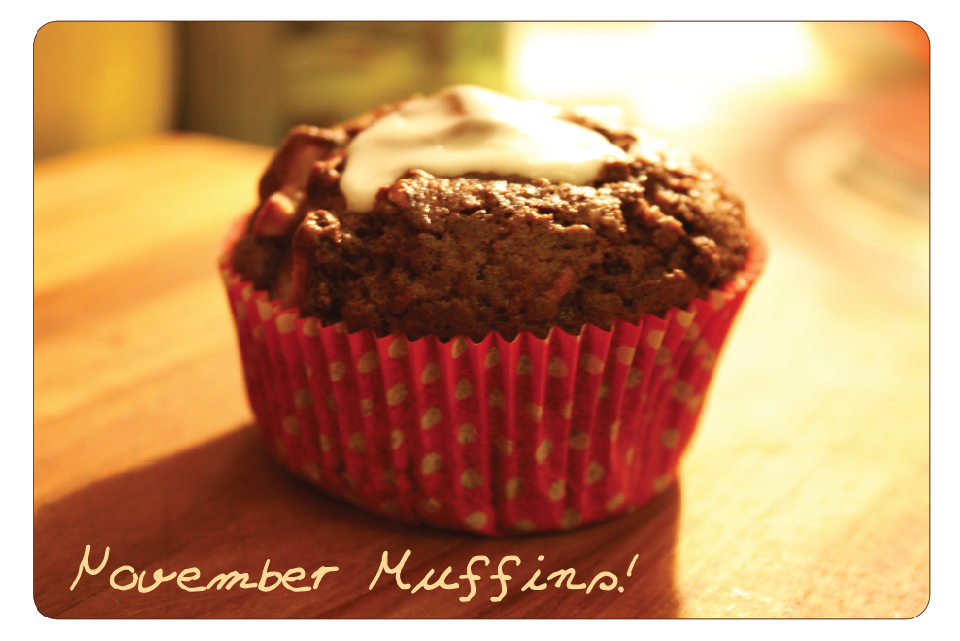 Pic by Franzi.
Some time ago (actually, this makes incredible 3 long years!), I told you about one of my favorite cakes of all times: The November cake! Thank god, it's November again and I am allowing myself to bake this sweet treat every weekend. This year there is even an innovation in my baking behaviour: I discovered that the recipe works also for muffins! Now I can bake even more and distribute them to colleagues and friends … that's really a good legitimation to bake even more of them ;).
Recipe: Makes 8-10 muffins.
Ingredients: 100 g sugar, 125 g butter, 3 eggs, 125 g flour, 1 packet baking powder, 1 TbSp cinnamon, 1 TbSp cocoa, 2 apples, powdered sugar, 1 TblSp rum
Preparation: Stir egg yolks, sugar and butter until light. Add flour, cocoa, cinnamon and baking powder. Afterwards, add diced apple pieces. In the end, fold egg whites into the mixture. Spread the mixture onto a greased muffin tray and bake it for 35-40 min at 175°-180°C.  Apply the frosting made with the powdered sugar and the rum onto the chilled muffins.
Enjoy!
Like always: All credits appear after clicking the links. If you are interested in putting ads on My so-called Luck feel free to email me for details.