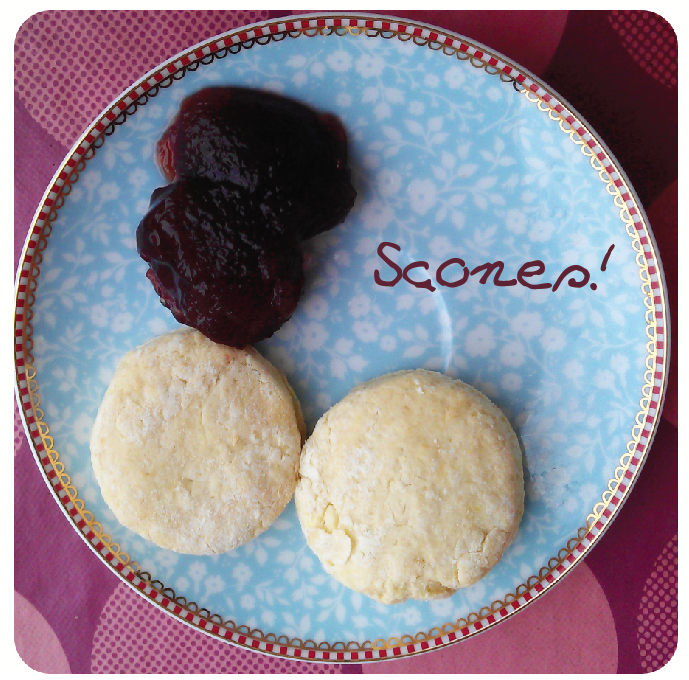 Pic by Franzi.
Last Saturday afternoon, I sat on my sofa while outside it was grey, stormy and wet. Suddenly, I had this craving feeling … for scones! So I checked if I had all ingredients and started to prepare some (or even some more). Oh, it was such a delicious feeling to bite into the first – still warm – scone with a bit of jam! The queen really has good reasons for her afternoon ritual – we should all enjoy this more often.
Recipe: Serves 4-6.
Ingredients: 500 g flour, 1 package baking powder, 40 g sugar, 1 TSp salt, 3 eggs, 1 egg yolk, 120 g soft butter, 120 g soft goat cheese
Preparation: In a big bowl, mix flour, baking powder, salt, sugar and the three eggs. Add goat cheese and soft butter and mix until a smooth texture is reached. Roll out dough and cut out circles (app. 7 cm diameter). Brush the circles with the egg yolk and bake for 15 minutes at 190°C. Serve with jam, clotted cream or hearty cream cheese.
Enjoy!
Like always: All credits appear after clicking the links. If you are interested in putting ads on My so-called Luck feel free to email me for details.