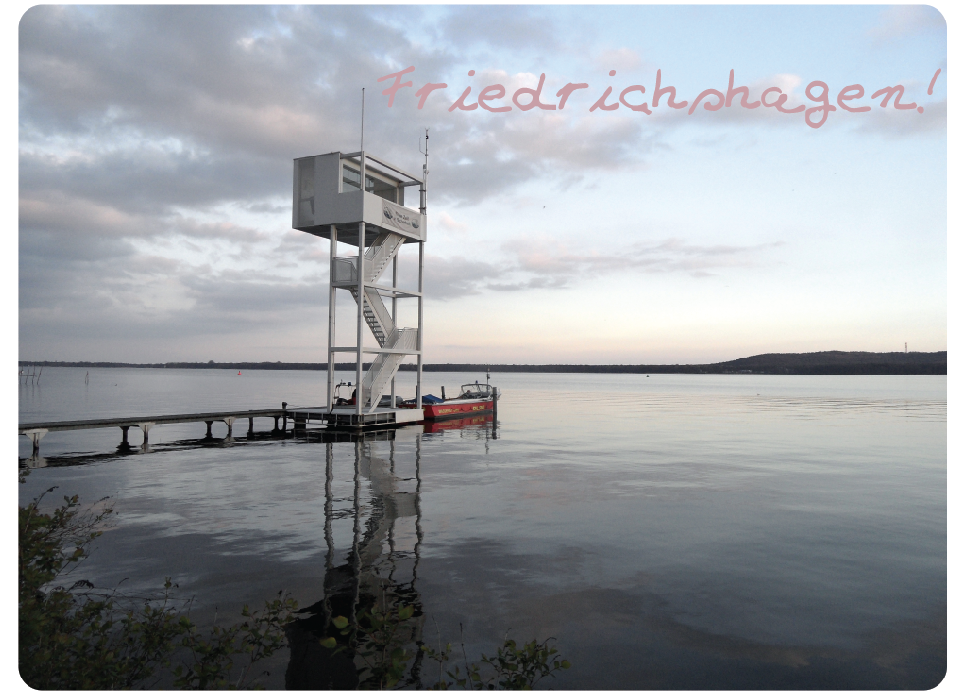 Pic by Franzi.
The last week I spent (mostly) in Berlin. This reminded me of all the wonderful places of my childhood and my school years. I am born in Köpenick and grew up (mostly) in Friedrichshagen, a part of Köpenick located directly at the Müggelsee. This small piece of Berlin contains a lot of memories and is still a spot I am coming back regularly to visit friends, to eat the best pizza in the world, to go to the cinema or to just doing walks down memory lane. Thus, it's time to reveal you the best places of Friedrichshagen. The places of where I come from…
I wish you a wonderful start into the new week with many hours at places you love!
Eat & Drink:
Mauna Kea… My meeting point with old pals and close friends. The place was formerly an antique store/ second-hand book store (I still remember those times!) and is now a comfy coffee shop … that still contains some of the old book shelves, filled with books!
Rabu… Back in my school days, this was the bar-to-be. It was also in the days of my "little" brother and as far as I know it will ever be.
Domaines… To get a table in this small French restaurant you should make a reservation! The cuisine is delicious/exquisite and the place is located at the end of the Bölschestraße with an incredible view on the Müggelsee. Funny story: In the old days, the place was the changing cubicle/lieu for the bathing guests at the Müggelsee. The dad of my pal Isa still knows the place as "Klohäuschen"/lieu from his childhood. His reaction to his first visit at the Domaines was, "I don't eat in a Klohäuschen/lieu." Luckily, he changed his opinion and was convinced that it's now a wonderful place to dine.
Kiboko… An African restaurant. Here you should also make a reservation. This place does not only  offer strange and foreign dishes, but also its owner is making each visit an experience.
Tre Soli… My favorite Italian restaurant, …ever! You have to eat the pizza Tre Soli! And as appetizer a crab cocktail. Oh, and I looove their olives!
Experience:
Müggelsee… The biggest lake in Berlin. The lake of my childhood. I still recall my grandparents making walks with me in its surroundings. Or hot summer days in the Strandbad. Now I love to walk down the Bölschestraße on my home visits and to end up at the Müggelsee with the view in the picture above.
Bölschestraße & Spreetunnel… The "Kurfürstendamm of the East". At least that's what I hear about it from tourists. It's the street I grew up on. The houses are mostly built up in the Wilhelminian style, which gives the street its certain character – despite a lot of rebuilding activities that were more than unfortunate during the last century. It's a beautiful street with small stores, restaurants and the Christopherus church with its red stones in the center of it. Like I said: I love to stroll up the street, beginning at the S-Bahn station Friedrichshagen and ending at the Müggelsee. There you can also find the old Spreetunnel – a tunnel that brings you to the other bank of the Müggelsee. Oh, how many times I had to schlep my bicycle those stairs up and down to make a trip to the Müggelberge (a hill range around the Müggelsee that's a nice nature experience).
Brauerei Berliner Bürgerbräu/Brewery… Until its closure in 2010 this was the oldest brewery in Berlin. In my childhood the smell of malt and yeast was the typical scent of Friedrichshagen. Those days are gone now, but the buildings are still there and telling the story of Friedrichshagen's past and of factory architecture. They also include the Bräustübl, a restaurant.
Wasserwerk/Waterworks… The history of public water supply in Berlin since 1850 can be followed in the museum of the Wasserwerk Friedrichshagen. The red bricks of the waterworks are imprinted in my childhood memories.
Flea Market… at the S-Bahn station Friedrichshagen, at a parking area near the tram station 88. Every Sunday this small flea market offers everything a collectors heart is craving: Books, LPs, antiques, cutlery and more. I bought there once an old Art Nouveau picture that now hangs in my bed room in Osnabrück and remembers me on where I come from.
My old schools: Gerhart-Hauptmann-Schule & Bölsche-Schule… Those are my very own nostalgic memories, but the schools are both worth a view since they have a long history. My mother went on both before me. The Bölsche-Schule was a Gymnasium when I joined it, but later it fused with the Gerhart-Hauptmann-Schule and I had to change schools. Back then, I was sad to leave my old building, the "Bölsche". Nowadays, both schools are filled with beautiful memories of a past time.
Union… This cinema at the beginning of the Bölschestraße is one of my favorite spots to watch films. It's old and comfy and familiar.
The old tram to Schöneiche… I don't know how to describe this tram. I had to use it for several years, since my parents moved to Schöneiche and this tram brought me to school every day. It's really an experience since it's an old tram that is loud and antique and shaky. But surprisingly dependable. I strongly recommend a trip with it from Friedrichshagen via Schöneiche to Rüdersdorf!
Shop:
Löwenherz… A store full of pearls and unique jewelery. You can select the prettiest pearls and say that you wanna have a necklace made with them, or earrings (that's what I always choose) or a bracelet and they will make it for you. I love to just browse around, looking for stunning pearl creations. This store is also a wonderful source for individual presents!
No9 Records… The record store of my teenage years. My pal Isa even worked there for some time. I didn't visit it for quite a while now, but I  resolve to do this soon. Maybe together with Isa ;)?
P.S. Do you know the film "Haialarm am Müggelsee" (2013)? It's German, it's made from one of Friedrichshagen's original characters and it's a funny persiflage of a wonderful spot in Berlin! A must-see!
Like always: All credits appear after clicking the links. If you are interested in putting ads on My so-called Luck feel free to email me for details.