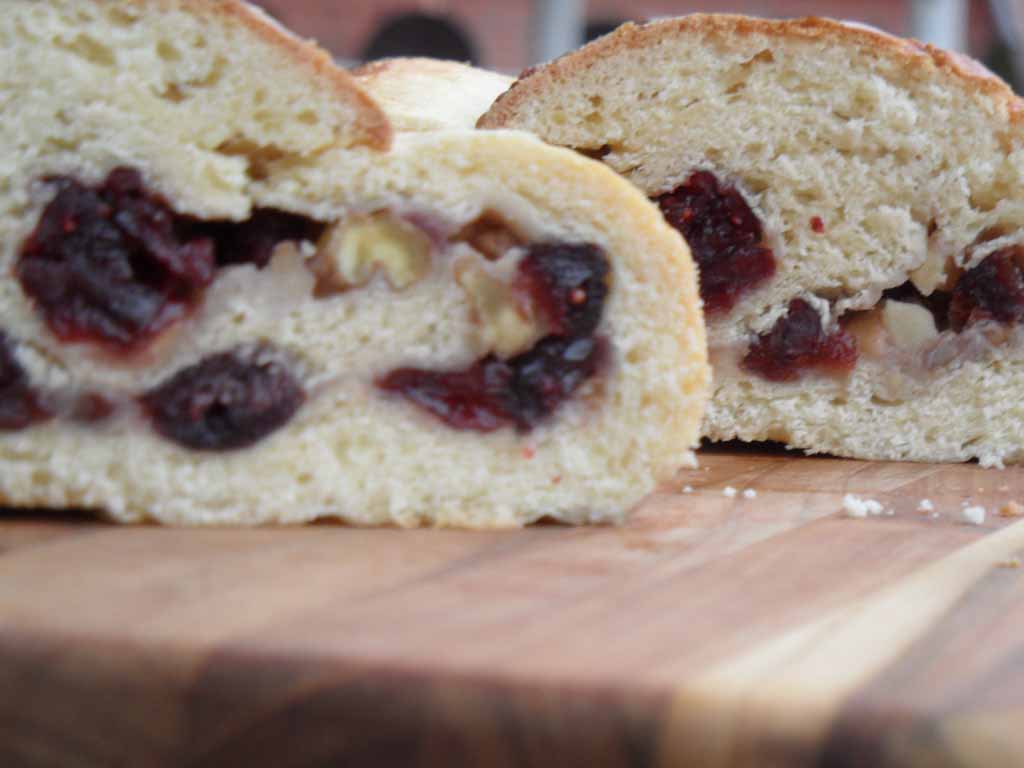 Pic by Franzi.
The 1st Sunday of advent is just around the corner. To prepare myself for long, X-massy teatimes and comfy coffee sessions, I made already a sweet yeast loaf filled with cranberries, apples and walnuts. Yummi! Finally the grey November will be over and I can indulge myself in all these delicious X-Mas treats. And if there is still a bit of the loaf left over, it also makes a perfect breakfast!
Recipe:
Ingredients (makes app. 25 slices):
100 g dried cranberries, , 5 TblSps apple juice, 500 g flour, 250 ml milk (plus 2 TblSps), one 42 g block of fresh yeast, 50 g butter, 50 g sugar, one package vanilla sugar, 2 eggs, 1 pinch of salt, 100 g walnuts, 2 apples, 2 TblSps red currant or cranberry jelly, 3 TblSps honey, 1 TblSp rum or amaretto.
Preparation:
Soak the cranberries in the apple juice. Put the flour into a big bowl, and form a well in the middle. In a small bowl, dissolve the yeast in 250 ml lukewarm milk and pour the mixture into the flour well. Let rest for app. 15 minutes.
Melt the butter. Add sugar, vanilla sugar, one egg, salt and butter to the dough, then stir well until smooth. Let rest for another 30 minutes. Roast the walnuts in a pan and chop them into pieces. Drain the cranberries. From one egg, separate the egg white from the yolk.
Mix the egg yolk with 2 TblSps milk. Wash, peel and dice he apples. Mix apples with cranberries, jelly, honey, walnuts, egg white and the rum.
On a baking sheet, roll out the dough and top it with the cranberry mixture. Beginning with the longitudinal site, roll the dough up. If it is now too long for only one loaf, cut it in the middle. Let rest again for 10 more minutes. Coat with egg yolk-milk mixture, then bake for 35-40 minutes at 200°C.
Enjoy!
Happy Birthday little Bro!
Like always: All credits appear after clicking the links. If you are interested in putting ads on My so-called Luck feel free to email me for details!