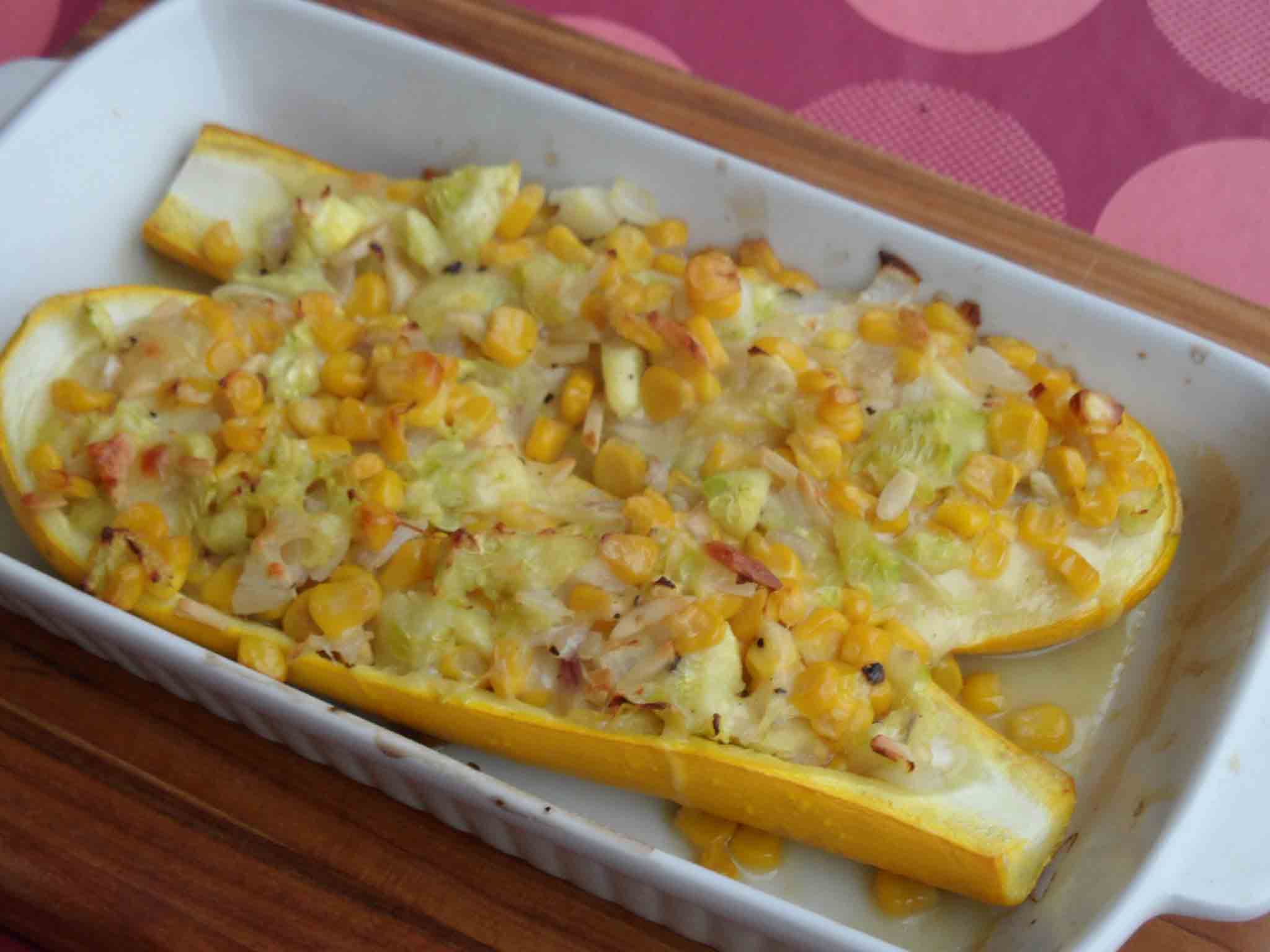 Pic by Franzi.
I was 12 years old when I made it official to my family that I'm a vegetarian (…who eats fish). Even before that moment, I never liked meat (in all its variants). Thus, I don't believe it came as a big shock. Nevertheless, my parents reacted the first years a bit…, well desperate. Admittedly, it was a slightly complicated situation with a father who adored meat and a brother who ate no vegetables or fruits at all back then. It didn't take long until my mother came home with two recipes in her hands a friend of her gave her. They were the very first simple vegetarian dishes I knew and are still classics in my kitchen. One of them are the baked courgettes with corn and nuts. They are hearty and fresh at the same time, easy to prepare, don't require many ingredients… what else can my vegetarian heart crave for?!
Preparation:
Ingredients:  serves 2
1 large courgette, 1 onion (peeled and minced), 1 TblSp olive oil, 100g tinned corn, 100g grated cheese, 50 g chopped nuts (walnuts, pine seeds…)
Preparation:
Wash and half the courgette. With a big spoon, core out each courgette half (save and chop the inner parts). Cook the outer shells for 2 minutes in water.  Heat the olive oil in a small pot, add courgette flesh, corn and onion; cook for 5 minutes. Add the rest of the ingredients (cheese, walnuts) and mix with a wooden spoon. Put the courgette shells into an ovenproof dish, fill the inner parts with corn-cheese-courgette mixture and bake at 190°C for 30 min.
Enjoy!